Warning! Graphic Torture Video
ATTENTION VISITORS – WE DO NOT ENDORSE THE FOLLOWING OPINIONS THEY ARE PROVIDED FOR ENTERTAINMENT AND OR EDUCATIONAL PURPOSES ONLY.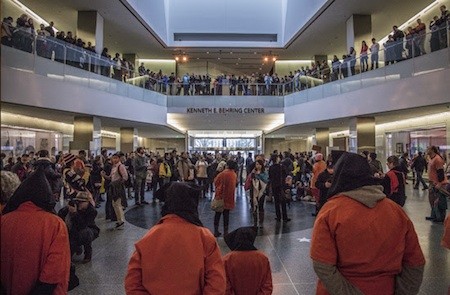 On the 12th anniversary of Guantanamo Bay this weekend, six years after President Obama vowed to close his 'Death Camp,' human rights defenders protested outside the White House, at the National Museum of History, and at dozens of places across the nation, demanding he keep his promise in the name of human rights.
"What's going on there has been hidden from the American people by enlarge," said one protester in Medford, Oregon at Vogel Plaza. "There's little squibs of information that come out from time to time, but mostly people don't have any real knowledge about Guantanamo."
To help remedy that, Channel 4 created the program. 
Warning: What you are about to view here below is graphic and disturbing. Brief nudity.
Photo Credit: Witness For Torture
Video: Channel 4, YouTube