Unbelievable! Judge orders 3 kids to juvenile detention until age 18 for refusing to go to lunch with their father!
In a ruling that one attorney tells Yahoo Parenting is flat-out "bizarre," a judge sent three kids to a juvenile detention facility for being in contempt of court and refusing to go to lunch with their father.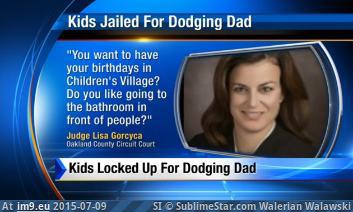 "I felt like I was watching them be executed," Maya Eibschitz-Tsimhoni, the mother of the children, ages 15, 10, and 9, told Fox 2 about the mandate from Oakland County Circuit Judge Lisa Gorcyca during a hearing about supervised parenting time with her ex-husband, Omer Tsimhoni, in Bloomfield Hills, Michigan, on June 24. "No matter how bad the divorce gets, I think the court should not punish the kids for that."
But the kids were punished for not submitting to the judge's demand that they foster a "healthy relationship" with their dad, according to Fox 2. "There is no reason why you do not have a relationship with your father," another outlet reports the judge told the eldest child in court, during the latest episode in a bitter family feud that has included allegations of abuse and fear of parental kidnapping. "Your father has never been charged with anything. Your father's never been convicted of anything. Your father doesn't have a personal protection order against him. … You, young man, have got it wrong. I think your father is a great man who has gone through hoops for you to have a relationship with you."
When all the kids remained resistant, Gorcyca ruled them in contempt and sent them to Children's Village's juvenile detention center until age 18. The trio have reportedly since been separated from each other, as well as both of their parents, who aren't even allowed to visit.

"I cannot imagine the trauma to those children, being ripped away like that, in the middle of an already turbulent time, and not even allowed to have their parents visit. This is insane."