Turkey puts troops on alert – Syria Deploys Troops on Turkish Border, Slams EU Sanctions
News Agencies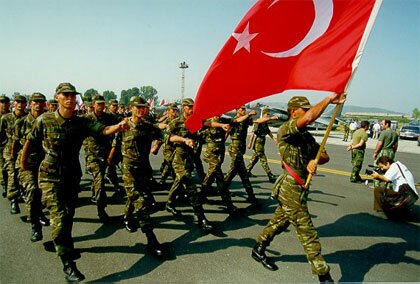 Syrian troops massed on the Turkish border overnight, after they deployed on a main road leading from the commercial hub of Aleppo to Turkey and protests expand to border regions, said residents and witnesses on Thursday 23 June 2011.
Refugees from the northwestern province of Idlib said armoured vehicles and troops were now as close as 500 metres from the border in the Khirbat al-Joz area.
A Reuters photographer in the Turkish border village of Guvecci saw three uniformed Syrian soldiers with a machinegun positioned on the roof of a house on top of a hill. Syrian armoured personnel carriers were visible on a road running along the top of the hill, and machinegun fire was heard although it was not clear who the troops were firing at, Reuters added.
While Ankara grows increasingly critical of President Bashar al-Assad's military crackdown and his use of increasing military force to try to crush a popular revolt.
Syria, meanwhile, scorned the European Union's criticism of Damascus, saying this showed Europe wanted to sow chaos in the country.
On Wednesday, EU states reached a political agreement to extend sanctions against Syria to four military-linked entities and seven individuals, including three Iranians, linked to suppression of dissent.
More People Arrested
On the 100th day of an uprising against Assad's rule, soldiers and secret police backed by armoured vehicles set up road blocks on Wednesday along the road, a major route for container traffic from Europe to the Middle East, and arrested tens of people in the Heitan area north of Aleppo, Syria's second city, residents said.
The armoured personnel carriers reached the area of Deir al-Jamal, 25 km (15 miles) from the Turkish border, they added.
"The regime is trying to pre-empt unrest in Aleppo by cutting off logistics with Turkey. A lot of people here use Turkish mobile phone networks to escape Syrian spying on their calls and have family links with Turkey, there are also many old smuggling routes that people could use to flee," one of the residents, a physician, told Reuters by telephone.
Northern regions bordering Turkey have seen growing protests demanding political freedoms and an end to 41 years of Assad family rule, following military assaults on towns and villages in the Jisr al-Shughour region of Idlib province to the west of Aleppo that have sent over 10,000 refugees fleeing to Turkey.
Activists said security forces killed one protester in Aleppo on Friday and arrested 218 students at Aleppo University, scene of now daily protests, in the last three days.
In Idlib, rights groups say Syrian security forces have killed more than 130 civilians and arrested 2,000 in a scorched earth campaign to crush dissent in the province.
The United Nations High Commissioner for refugees said that since June 7, some 500-1,500 people have fled across Syria's 840 km (520 mile) border with Turkey daily.
Turkey has also become increasingly critical of the Syrian president, after previously backing him in his drive to seek peace with Israel and improve relations with the United States, while Assad opened the Syrian market to Turkish goods.
Turkey had warned Assad against repeating mass killings in cities witnessed during the rule of his father in the 1980s. A senior Turkish official said on Sunday that Assad had less than a week to start implementing long-promised political reforms before foreign intervention began, without elaborating.
Syria's Foreign Minister Walid al-Moualem played down any possibility of international intervention against his country. He asked Turkey to reconsider its response to a speech this week by Assad in which Turkish President Abdullah Gul said Assad's promises of reforms were not enough.
In his third speech since the start of the uprising, in which rights groups say 1,300 civilians have been killed, Assad promised reforms but these were seen by opponents and world leaders as too little, too late and too vague. Assad issued an amnesty the next day, which human rights lawyers said covered mainly drug dealers, tax evaders and thieves across Syria.
Call for Dialogue
The Syrian Foreign Minister called for regime opponents to enter into political talks, and urged Syrian exiles to return, pledging that "even the harshest opponent" of the regime will not be arrested. "Whoever wants to test our seriousness should come to the national dialogue to be a partner in shaping the future," he said.
But a prominent dissident rejected the idea of talks. "There can be no dialogue when a gun is being held to your head," Damascus-based activist Hassan Abdul-Azim, quoted by the Associated Press, said.
Responding to Moualem statements, the dissident Abdul-Azim said dialogue was impossible with the regime's security forces still cracking down on dissent. "Such a dialogue would provide a cover for the security crackdown," he told The Associated Press.
That view was echoed at the highest level of the United Nations later Wednesday, when Secretary-General Ban Ki-moon told New York reporters he didn't see "much credibility" in the Assad statements "because the situation has been continuing."
The UN chief suggested unified Security Council action to pressure Syria "would be helpful." Russia and China have opposed such action.
The U.S. State Department also demanded action instead of words, saying the status quo was unacceptable. "They've thrown around a lot of rhetoric, and meanwhile, they've used unremitting violence against innocent civilians," State Department spokesman Mark Toner said.
Syria dissidents noted that previous talk of reform has produced little change in Syria's system. "We are not against dialogue in principle, but we currently have no confidence or guarantees that anything would be implemented," said London-based Syrian activist Rami Abdul-Rahman of the Syrian Observatory for Human Rights
Among the opposition's demands is the withdrawal of Syrian troops from cities, trials for security personnel responsible for killing protesters and the release of all political prisoners.
The opposition estimates 1,400 people have been killed and 10,000 detained in the attempted suppression of the 3-month-old pro-democracy movement, which was inspired by successful uprisings in Egypt and Tunisia. Hundreds of soldiers and police officers have also been killed.