SOCHI 2014 – An ENCYCLOPEDIA OF SPENDING
SOCHI 2014
ENCYCLOPEDIA OF SPENDING
We are proud that Sochi hosts the Winter Olympic Games. This is a unique sports event for everybody. However, officials turned Olympics into a source of their income. The Anti-Corruption Foundation proves that with figures and facts. Learn who cashed in on the most expensive Olympic games ever.
Champions of corruption race
Athletes are not the only people who compete in Sochi. Officials and businessmen also took part in the Games and turned them into a source of income. The Anti-Corruption Foundation honored the most distinguished money siphoners in five different sports.
Cost of the Olympics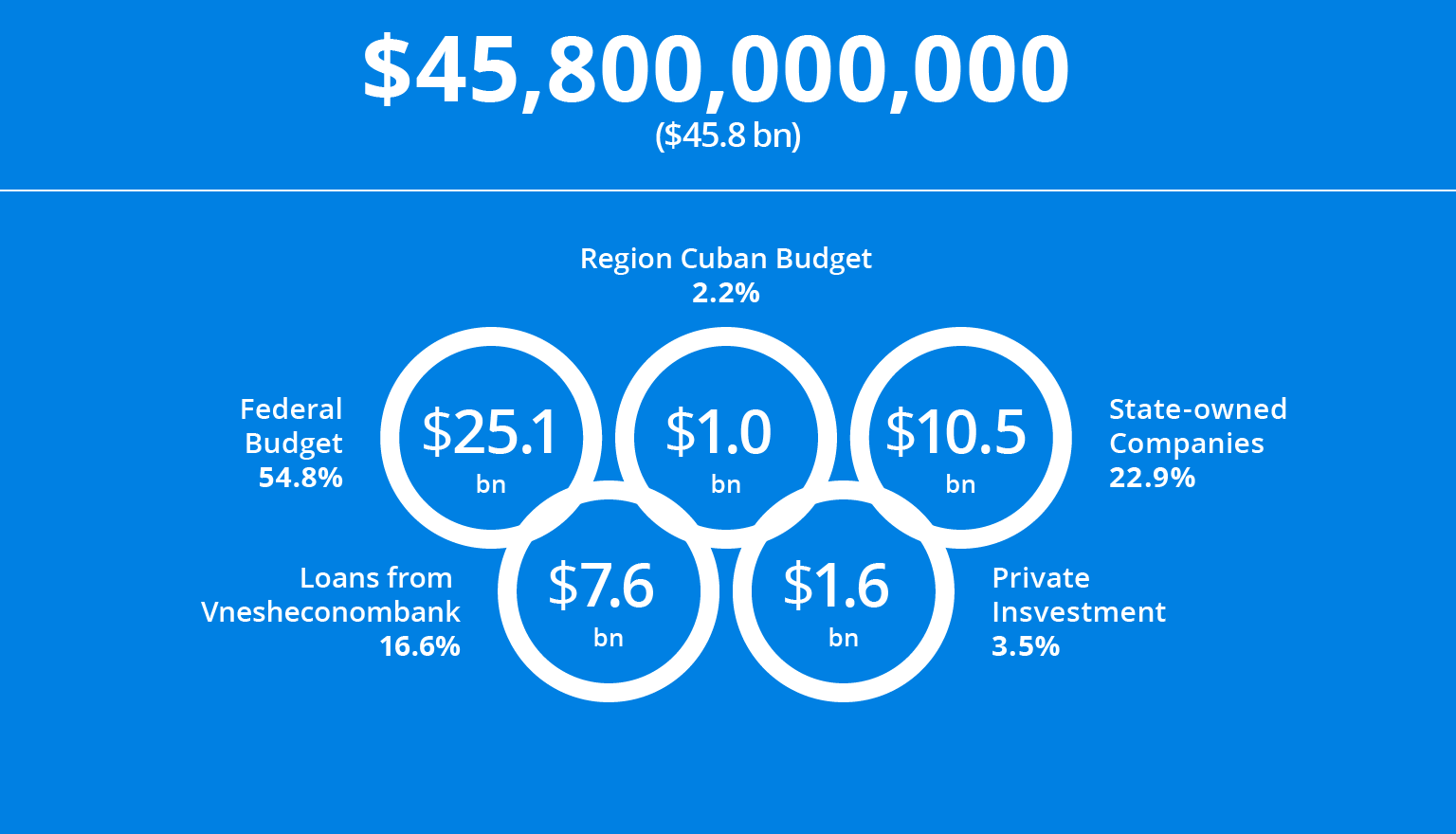 Russian officials including Vladimir Putin have recently claimed that the Olympics cost $6.5 bn. This is not true. Citizens of Russia paid nearly $45.8 bn for the Sochi Games. The Anti-Corruption Foundation explains how this adds up.
STATE BUDGET, $25.1 BN
Two state-owned companies, Olimpstroy and Russian Railways (RZD), received over a half of this money. Olimpstroy spent $6.3 bn to construct 11 sport venues; most of them were built at unreasonably high prices. Most notably, Fisht Olympic Stadium cost 2.5 times as much per seat compared to similar venues.
Russian Railways received even more than Olimpstroy from the state budget: $7.6 bn were allocated for some 20 infrastructure projects. For example, the state monopoly took part in constructing the most expensive Olympic facility – the Adler-Krasnaya Polyana motorway and railway line. This facility cost $8.7 bn and helped Vladimir Yakunin, Arkadiy Rotenberg and Gennadiy Timchenko, friends of Putin, to get hold of the money.
From 2008 to 2014, the government spent $0.58 bn to ensure safety during the Olympics, fourfold the amount spent on grants for Olympic athletes. On top of that, $0.56 bn were given out to upgrade health resorts belonging to the Department of Presidential Affairs.
KRASNODAR REGION BUDGET, $1.0 BN
Another large expenditure item is a $2.6-billion federal transfer to the Krasnodar Krai region. Besides, the region also spent 1.0 bn from own funds, mostly to pay the shares of Center  Omega, a 100% Krasnodar Krai-owned company  which built the Adler Arena skating center at a cost exceeding the cost of similar venues by 2.4 times.
STATE-OWNED COMPANIES' EXPENDITURES, $10.5 BN
Gazprom and Russian Railways account for the largest Olympic expenditures, being $4.5 and 2.0 bn respectively. The rest was spent by Sberbank and state-owned energy companies (FSK, Inter RAO, MRSK). These funds cannot be considered private, because these are rates paid by customers of monopolies: railway fares, electricity and gas tariffs. For example, massive investment projects of Russian Railways are funded yearly from the state budget.
VNESHEKONOMBANK LOANS, $7.6 BN
All major private investors – billionaires Vladimir Potanin, Oleg Deripaska and Viktor Vekselberg – have received substantial financial support from Vneshekonombank, reaching 90% of the whole project costs. This is a very high leverage. Commercial banks usually do not finance over 66% of the project.
This fall, it has been reported that, out of 20 Vneshekonombank loans for $7.6 bn, nine loans for $5.8 bn need to be restructured. According to the business newspaper Vedomosti, these projects are unprofitable with loans being unrecoverable without additional support. Vladimir Potanin, one of the recipients of state loans, also admitted this in an interview.
PRIVATE INVESTMENTS, $1.6 BN
In their statements, officials referred to investments of Gazprom, Sberbank, Russian Railways and other government-affiliated entities as private investments. According to the IFRS, these investments are considered investments of state-owned companies. In fact, private investments account for less than 4% of the Olympic budget, not 60%, as Alexander Zhukov, President of the Russian Olympic Committee, previously claimed. These are primarily billionaires' own funds they invested along with state-owned Vneshekonombank loans.
Olympic sites