Shocking Evidence–Lost City of Nephilim – Giants Found? Archaeologists Are Scratching Their Heads For Answers! (Stunning Photos and Videos)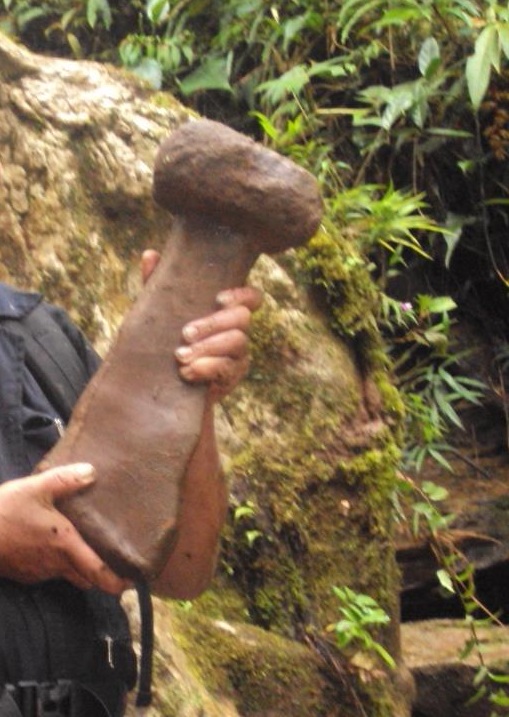 [Over-sized hammer recovered from site]
Late last year, there was a discovery of biblically profound significance, and it should be pointed out that this shocking news may very well be the Nephilim of the Bible!
Archaeologists believe they may have found a lost city of giants in Ecuador's Amazonian Jungle. Large boulders forming a pyramid, a possible sacrificial altar atop, and enormous tools that would have been too big for human use have them scratching their heads for answers.
Strangely, locals are terrified of these locations. For generations, they have been taught that guardian spirits or beings not of this world shield the area.
Amongst these tools are some that would be extremely difficult for a normal size human being to use in any practical fashion, which has led Fenton to suspect that this is one of the legendary lost cities of the giants, well known in local Ecuadorian legends about the Amazonian area.  Such places generate great fear among the members of today's jungle tribes as they are believed to be protected either by spirit guardians or by beings not of this world.   Ancient Origins
[Boulders seen on side of Ecuador Pyramid]
Biblical Nephilim taught humans technology, and many humans at the time saw them as gods because of their superhuman stregnth, technological skills, their height, their supernatural powers, and their frightening appearance. They also became so vicious, they oftentimes killed humans, sacrificed them, ate them, and were known to even drink their blood. So an altar at the top of the pyramid would not be surprising if these were indeed 'giants' (Nephilim).
They also uncovered a mysterious hard bonding substance between some of the blocks. After a closer look, it appeared to be some sort of vitrified material that might have been melted using some sort of unknown advanced technology.
Yes there are legends in the area of giants, and at other sites in Ecuador remains or artifacts have been found that do seem to prove a presence of incredibly large people. What really strongly points towards this habitation having housed the same race of giants is the presence of extremely oversized hammers, or at least the stone hammerheads. Assuming these were attached to hard wood handles they would be of both incredible size and weight, making their use as tools impractical for a typical Inca or indigenous Indian, these being generally slight built people of around  five foot or so. Who on Earth would make a hammer like this as a real tool? Remember also that any work would be done in the incredible heat and humidity of the Amazon jungle, how long could anyone swing such a thing before collapsing from heat exhaustion? I have been unable to match this object to anything known in Inca archaeology, and in fact there is simply nothing like it in the Ecuadorian museum of cultural history, located in Quito, that would suggest any of the known civilizations of this region.  Earth 4 All
[Close-up of vitrified material between boulders]
Finally, bones of 'giant' people have been discovered in caves in the same area, as well as in other parts of Ecuador.
The investigators of the site also found what appear to be very large tools which would have been extremely difficult for a normal sized human being to use, which has led Fenton to suspect that this is one of the legendary lost cities of the giants, well known in local Ecuadorian legends about the Amazonian area.  Local legends pertain to giant humans who lived in cities that have become forgotten in the pages of history. In fact bones of giant people have been found in caves in the area – as well as in other parts of Ecuador.
Could this be more evidence of the Nephilim of the Holy Bible, and the extra-biblical historical Book of Enoch?
I find it absolutely fascinating that all over the world, more evidence is being unearthed which could very well prove the existence of fallen angels and their offspring. For those of us who already know the truth and believe in the authenticity of the Holy Bible and biblical history, this is a no-brainer. But for the unbelieving and the unrepentant, information and discoveries of this sort could prove to be useful in the establishment of their faith in God.
The below videos are provided as scientific evidence. Please remember that my views are Christian and Biblical, and I do not believe in 'aliens' as the world does. I believe that what the world thinks are 'aliens' are actually nephilim. However, these two videos are 'timeless' and very worth the watch!
Klaus Dona comes from the art world. As Art Exhibition Curator for the Habsburg Haus of Austria, Klaus has organized exhibitions world wide. With this background his approach to archeology is unconventional. He has traveled the world in search of unique and unexplained findings. Intrepid and unrelenting, he is on a mission to bring to the eye of the public such finds as giant bones, crystal skulls, carvings and sculptures in forms that do not fit into the contemporary view of our timeline.
We spent an afternoon with Klaus in Vienna talking at length about his process, his particularly stunning finds and why he is motivated to pursue this unusual vocation. Staunchly open minded, he refuses to retreat in the face of skepticism and doubt. Low on funding, he presses on to discover the real mysteries, going down through the centuries and excavating artifacts that science does not allow for, revealing the existence of physical proof that humanity has barely grazed the surface of our heritage here on Earth.  —The Hidden History
Klaus Dona : The Hidden History of the Human Race
This video is a 45 minute slideshow, with a personal commentary from Klaus. It's data-rich, detailed, intensive, absorbing, and may contain more startling information about the history of the human race in one place than any other video you've ever seen.
The journey we embark on covers Atlantis, reptilian humanoids, the Anunnaki, ancient symbolism, ancient science, an ancient global language, and much more. This is astonishing material, which has my highest recommendation.  —The Hidden History