Russia Deploys Weapon That Can Melt Internal Organs and Flash Burn Anything Within 300 Yards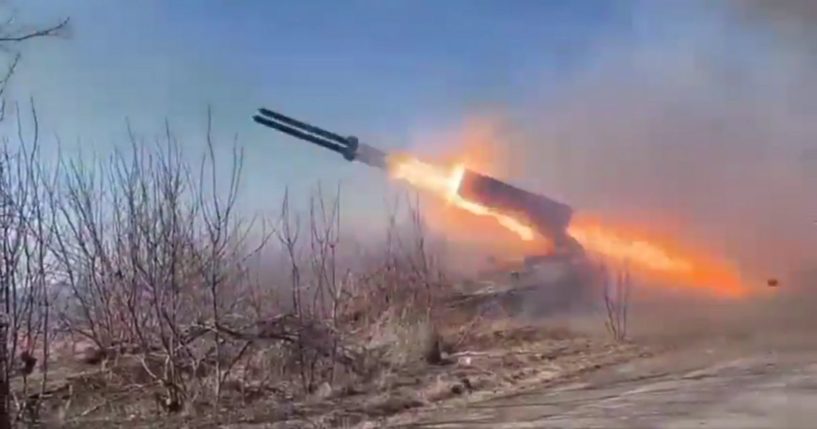 As Russia labors to destroy Ukrainians' will to fight as well as that nation's cities, it is turning to weapons that have been labeled as "potentially a war crime."
New videos have emerged that indicate Russia is using thermobaric rockets fired from a weapon known as the TOS-1A Solntsepek in its effort to break through Ukrainian resistance, according to the U.K.'s Mirror.
The outlet said it was uncertain whether the footage of the weapon, which can melt human organs, was taken in Ukraine or was being used for propaganda purposes.
Rus Ordusu tarafından Ukrayna hedeflerine yönelik olarak gerçekleştirilen Tos-1A Çok Namlulu Roketatar (ÇNRA) atışları… pic.twitter.com/lI0x42eyV2

— SavunmaSanayiST.com (@SavunmaSanayiST) March 19, 2022
The Russian MoD has confirmed the use of the TOS-1A weapon system in Ukraine. The TOS-1A uses thermobaric rockets, creating incendiary and blast effects.
The Russian MoD has confirmed the use of the TOS-1A weapon system in Ukraine. The TOS-1A uses thermobaric rockets, creating incendiary and blast effects.

Watch the video below for more information about this weapon and its devastating impact.

🇺🇦 #StandWithUkraine🇺🇦 pic.twitter.com/d8PLQ0PhQD

— Ministry of Defence 🇬🇧 (@DefenceHQ) March 9, 2022
Russia Deploys Weapon That Can Melt Internal Organs and Flash Burn Anything Within 300 Yards