Pornography filters in every UK household. ISPs will contact users who must 'declare whether they want to maintain access to online pornography'. 'Simulated' rape scenes also become illegal.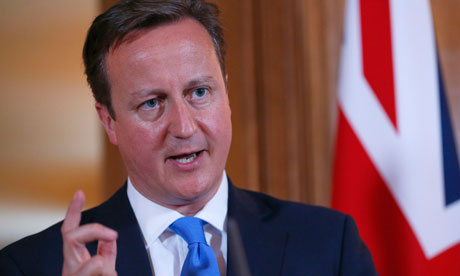 Every household in Britain connected to the internet will be obliged to declare whether they want to maintain access to online pornography,David Cameron will announce on Monday.
In the most dramatic step by the government to crack down on the "corroding" influence of pornography on childhood, the prime minister will say that all internet users will be contacted by their service providers and given an "unavoidable choice" on whether to use filters.
The changes will be introduced by the end of next year. As a first step, customers who set up new broadband accounts or switch providers would have to actively disable the filters by the end of this year.
The moves will be announced by the prime minister in a speech to the NSPCC in which he will unveil a series of measures to reduce access to pornography with a particular focus on images of child sexual abuse. He will say:
• The possession of "extreme pornography", which includes scenes of simulated rape, is to be outlawed.
• The Child Exploitation and Online Protection Centre (CEOP) is to draw up a blacklist of "abhorrent" internet search terms to identify and prevent paedophiles searching for illegal material.
• All police forces will work with a single secure database of illegal images of children to help "close the net on paedophiles".
In a separate move, Twitter is to introduce a tagging system to prevent such images being posted on its service. There are now millions of pictures posted among the 2bn tweets every five days. The intention is to introduce the system, which uses a Microsoft-developed industry standard called PhotoDNA, this year if possible.
The prime minister's speech is designed to answer critics who accuse him of talking tough but failing to take action. In the most significant step he will outline detailed plans to limit access to pornography.
MORE AT SOURCE: http://www.guardian.co.uk/technology/2013/jul/22/david-cameron-crackdown-internet-pornography