Pope calls in Opus Dei troubleshooter to uncover source of Vatican leaks
News
World news
Pope Benedict XVI
Pope calls in Opus Dei troubleshooter to uncover source of Vatican leaks
Cardinal given 'pontifical mandate' to hunt Holy See staffers releasing documents on corruption claims in 'Vatileaks' scandal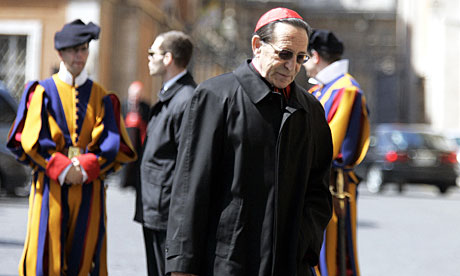 Vatican staffers who have been leaking embarrassing letters about corruption and nepotism inside the tiny city state are to be hunted down by a crack squad of cardinals led by a senior member of the religious group Opus Dei.
Irritated by the anonymous release of documents to the press this year, Pope Benedict has named Cardinal Julian Herranz, 82, to lead a three-man team which will haul in staffers for questioning and rifle through files until they catch the perpetrators of what has been dubbed "Vatileaks".
A short statement printed on Thursday on the front page of the Vatican's daily newspaper warned the team had a full "pontifical mandate" to "shed complete light" on the whistle blowers, who have lifted the lid on alleged theft and false accounting.
Herranz was a long-time personal secretary to Josemaría Escrivá , the now canonised founder of Opus Dei, which has been accused of excessive secrecy, strict control over members and undue influence within the Vatican – a reputation pushed by Dan Brown's thriller The Da Vinci Code.
One of two cardinals who are members of the group, Herranz has insisted that Opus Dei has "no hidden agenda" and is only interested in the "the message of Christ", but he does appear to be cut out to be a Vatican troubleshooter, once stating that "men need to act decisively, like Jesus Christ – who was a real man".
Herranz's squad, which met for the first time this week, is just one of three inquiries now under way at the Holy See into the leak of letters in January and February that discuss the mysterious kidnapping of Emanuela Orlandi – the daughter of a Vatican employee in 1983 – the likely date of Benedict's death and an internal row over just how transparent the Vatican bank should be as it tries to shrug off allegations of money laundering.
The most shocking revelations are in a letter addressed to the Vatican's secretary of state by Archbishop Carlo Maria Viganò, the deputy governor of Vatican City, denouncing the signing by employees of inflated contracts with friendly companies. As proof, Viganò said he had discovered the price of the Christmas nativity scene in St Peter's Square was €250,000 (£204,000) more than it should have been.
One priest, who Viganò describes as "vulgar" and "arrogant" had been responsible for nepotism, fake invoicing and €70,000 going missing, he claimed.
After telling all, Viganò was reassigned to the US as papal nunzio, an appointment he describes as punishment for his honesty in a plaintive letter to Benedict in which he begs for a commission to look into his claims.
Since then, the Vatican has instead focused on finding out who leaked the letters, which it describes as "biased and trivial".
"I hope the Vatican employs the same tenacity in improving transparency at its bank and in reopening the Orlandi kidnapping case as it has with this inquiry," said Gianluigi Nuzzi, the Italian journalist who first broadcast the contents of the Viganò letters.
Herranz has been called in by the pope before to snuff out trouble at the Vatican. In 2007, he oversaw the suspension of a senior Vatican cleric who was secretly filmed telling a young man he was "hot" and that homosexual sex was not sinful.
Any employees now nabbed by Herranz and his team in the Vatileaks probe could be fired or face canonical punishment if they are clerics. But to track them down, the three "detectives" – as they were dubbed by Italian newspapers on Thursday – must penetrate the secretive world of the Vatican's bureaucracy, a task that Il Messaggero warned could turn out to be a "Mission Impossible".