Peace Destroyers: Report finds widespread evidence of child sex abuse by UN peacekeepers and NGO workers across the globe
United Nations peacekeepers are meant to bring stability to vulnerable populations and deter violence. However, a growing pile of allegations against them indicates they also bring sexual abuse and exploitation, endangering the people they were sent to protect.
Sex abuse of children by NGO workers or UN peacekeepers have come under the spotlight again after it has been reported that British lawmakers are reviewing a UN report from 2001 naming 15 major aid organisations implicated in a "sex-for-food" scandal.
The report alleges that workers from more than 40 NGOs and 15 international organisations – such as the International Rescue Committee (IRC) and Norwegian Refugee Council (NRC) – "had sexually exploitative relationships with refugee children."
Although the allegations couldn't be fully confirmed, their sheer volume "is a critical indicator of the scale of the problem," the researchers reportedly warned.
The UN High Commissioner for Refugees from 2001 to 2005, Ruud Lubbers, at the time rejected allegations of child sex abuse by members of his staff as "gossip."
South Sudan
Allegation of sexual assault committed by Nepalese troops serving in the UN mission is South Sudan surfaced on April 13, 2018. It was alleged that one of the teenaged girls had been "touched inappropriately" by a Nepalese serviceman in exchange for money.
The spokesman for the UN secretary general," Stéphane Dujarric" made a comment on the case, saying "any act of sexual abuse is horrendous."
"One involving a child is especially heinous," he added.
As of March 2018, Nepal had 1710 troops and 344 police personnel deployed in South Sudan with the UN mission.
Overall, the UN has 14,800 troops and police in South Sudan, meant to deter violence against civilians amid the conflict that started as a political clash between President Salva Kiir and his then Vice President Riek Machar in December 2013 and has been developing ever since.
Earlier this year, 46 UN peacekeepers from Ghana were recalled from South Sudan, after it was alleged they engages in sexual exploitation of women sheltering at the site.
"The information received indicates that some members of the formed police unit allegedly engaged in transactional sex," UN spokesman Stephane Dujarric said at the time.
Central African Republic
Nearly 11,000 UN peacekeepers have been deployed to the Central African Republic (CAR) in 2014 to maintain the fragile peace between Islamic Seleka rebels and Christian militias.
In 2016, a report by AIDS-Free World's Code Blue stated that UN and French troops based had abused at least 98 girls.
"Saturday, March 27, 2016, the Deputy Special Representative of the Secretary-General and a delegation from MINUSCA, the UN's peacekeeping mission in CAR, met with local leaders and victims who reported that troops from France and Gabon have sexually abused several girls in their province," a press release by Code Blue states.
The three survivors told a MINUSCA human rights officer that they had been tied up and undressed inside a camp by a military commander from the Sangaris Force – the French military in CAR – and forced to have sex with a dog.
UN peacekeepers are not subject to domestic prosecution, as they are meant to be investigated and prosecuted in their countries of origin if they commit criminal offence.
In 2018, Paris prosecution office have closed the case against the French servicemen accused of raping children in CAR.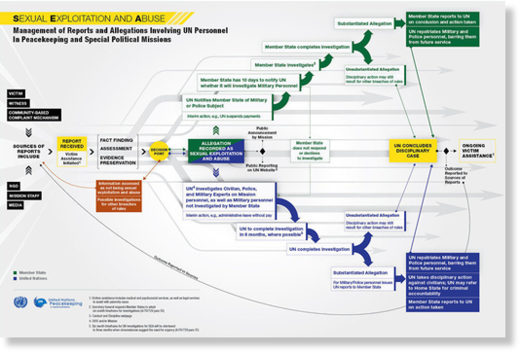 Management of Reports and Allegations Involving UN Personnel in Peacekeeping and Special Political MissionsCongo
The Democratic Republic of Congo already had accounted for nearly one-third of the 43 allegations of sexual violence by UN peacekeepers and personnel made worldwide in 2017.
Earlier this year United Nations said it had registered 18 alleged cases of sexual abuse and exploitation by its peacekeepers and civilian personnel in DPK in 2017 – one fewer case than the 19 claims for 2016.
Fourteen of the allegations involve paternity cases or complainants seeking "care for children born out of relationships," said Adama Ndao, head of the conduct and discipline unit at MONUSCO, the UN's peacekeeping mission in the country.
Haiti 
According to a 2017 report by the AP news agency, at least 134 Sri Lankan peacekeepers exploited 9 children in a sex ring from 2004 to 2007 in Haiti. Following the revelations, 114 peacekeepers were sent home but none was ever imprisoned.
The investigation also found that a teenage boy in Haiti said he was gang-raped in 2011 by Uruguayan peacekeepers who shot the reported abuse on a cellphone. Haitian women had also reported they were raped in what was branded as "survival sex" in a poverty-ridden nation, where the majority lives on less than $2.50 a day, according to the report.
In response, the UN's head of field support said international body was aware of shortcomings in the system.
Zero tolerance towards sexual exploitation and abuse remains among UN's standards of conduct. However, despite UN's official position, the number of sexual assault revelations is constantly growing. According to the former Secretary General of the organization, Ban Ki-moon, swift punishment by UN member nations of sexual predators in peacekeeping missions is necessary to restore global confidence in the United Nations' ability to halt violence.