North Korea's leader Executes Uncle's Entire Family – Executes The Children Too!!
By Susan Duclos
The North Korea's leader Kim Jong un has executed Uncle's entire family, including children, according to South Korea's state news agency Yonhap.  
One source told the news agency "Extensive executions have been carried out for relatives of Jang Song-thaek. All relatives of Jang have been put to death, including even children."
Kim Jong un had his unlce executed on December 12, 2013, along with close allies for the crime of "acts of treachery."
Back in August the little psychopath also had his ex-girlfriend, a singer with the Unhasu Orchestra, executed by firing squad, along with almost a dozen other performers as the families were forced to watch.
This guy is completely out of control!
More on this at the 10:30 minute mark in the video below.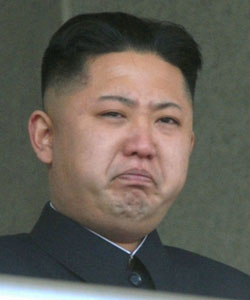 Susan Duclos owns/writes Wake up America