Mysterious outbreak of hemorrhagic fever syndrome in Venezuela kills ten
An outbreak of a mysterious hemorrhagic fever syndrome in the Venezuelan state of Aragua and the country's capital Caracas has left ten people dead in the last three weeks. Reports indicate that nine people have so far succumbed to the disease in the northern state and a tenth person has died in the capital.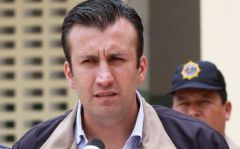 It is unclear whether the cause of the syndrome is viral or bacterial – a distinction with implications for treatment – although autopsies have indicated that those who died were suffering from other complications, such as Chikungunya.
Venezuelan hemorrhagic fever (VHF) is endemic in the two states of Portuguesa and Barinas, but transmission from person-to-person is uncommon.
While samples have been sent to the Venezuelan National Institute of Health, the results have not yet been released publically and there is no suggestion from health officials that VHF is behind this particular outbreak.
One doctor, who wishes to remain anonymous, attended a meeting last week at the headquarters of the Medical Association of Aragua state to discuss what action should be taken. "This is an emergency," he said, "we do not know what we are facing and we need to know the causes in order to provide appropriate treatment, to prevent the collapse of the patient's organs, and also to set up epidemiological surveillance."
Similar to Ebola, this syndrome causes patients to experience high fever, skin rashes and bleeding. It has been described as an aggressive disease that leads to a fatal deterioration of health within 72 hours.
Doctors have urged government authorities to declare a state of emergency in Aragua state; however they have received resistance from a surprising source.
More at Source: http://goo.gl/ixT2zX