MAN RECEIVES RFID MICROCHIP IMPLANT IN BACK OF HAND TO CONNECT TO IPHONE 6
THE WORLD IS NOW READY TO COMBINE THEIR SMART DEVICE WITH HUMAN-IMPLANTABLE RFID MICROCHIPS
"And he causeth all, both small and great, rich and poor, free and bond, to receive a mark in their right hand, or in their foreheads: And that no man might buy or sell, save he that had the mark, or the name of the beast, or the number of his name." Revelation 13:16,17
It has only taken the world at large 12 short years to go from the launch of the first implantable RFID microchip to being mentally ready to accept being chipped as a means of conducting the daily business of our active social and professional lives. Get ready for the microchip revolution which will now be everywhere and in everything.
The actual Mark of the Beast will not appear until the Great Tribulation starts after the Rapture, but suffice to say, the world is ready to receive their implants. Nothing like a little warm-up before the "big game", right?
A Brisbane man is living the life of the future after having a microchip implanted under his skin so he can control electronic devices with just a wave of a hand. Ben Slater had a radio-frequency identification microchip – which has similar measurements to a grain of rice – injected into his left hand through a syringe two weeks ago at a Melbourne tattoo parlor.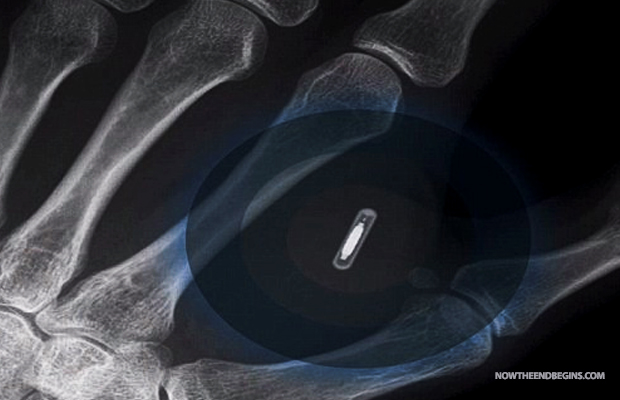 The advertising director's move comes as technology enthusiasts eagerly await the unveiling of the iPhone 6 in two days time. He hopes the new generation of Apple's smart phone will have the capability to read the microchip implanted in the webbing between his thumb and forefinger.
The new addition to his body means Mr Slater can swing his front door open, switch on his lights and store personal information with the flick of his hand.'The most obvious thing the chip allows me to do is store my contact information on it, so that I can just touch a phone with NFC and pass my information to their phone. That is a great party trick,' he told Daily Mail Australia.
'But it can also trigger an action on my phone to turn the house lights off, open a secure door which is set to recognize the chip or I could – and probably will – set up my car ignition to be linked to the chip for key-less entry and start up.'
Sorece: http://goo.gl/0pBKxM