Huge Development: Kremlin Tells Russian Media "Prepare For Major Announcement This Weekend" (Video)
Rumors have been swirling around Vladimir Putin this week.
From his being dead to him having had a stroke of some sort.
Now a Russian media outlet is reporting that media has been asked to stay close, for there is to be some sort of major announcement over the weekend.
From a Russian website Vlastinet.net :  According to a source in the press service of the President of Russia in the near future is preparing a major announcement, and for this reason, heads of relevant media asked to be ready in the next few days for a possible press conference.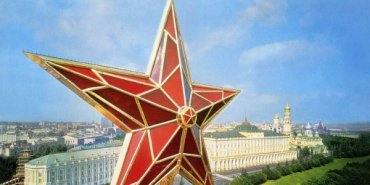 This is indirectly confirmed by the CEO of the Center for Political Information polit-info Alexei Mukhin.
Mukhin also not denied reports that President Putin is currently incapacitated."Guys, you now need the president, gather .." – he wrote in his Twitter.
The question – whether he confirms rumors about Putin, Mukhin said "no comment."
He also asked the staff at the weekend are in place, "will be something important," he added
What could this announcement pertain to?
 Will they announce that Vlad indeed had some sort of medical issue, hence why he missed the huge meeting he was suppose to attend this week.
References:
https://translate.google.de/translate…
"All employees of the Russian Embassy in London from the various officers and attaches the last few days have left the UK"
Все сотрудники российского посольства в Лондоне из числа офицеров и различных атташе за последние несколько дней покинули Великобританию

— Адепт Истины (@adept_istiny) March 12, 2015

~~~
Could it be about this…?
"Russian Prime Minister Confirms The Existence Of Intelligent Extraterrestrial Life"
Russia's Prime Minister Dmitry Medvedev recently confirmed the existence of intelligent extraterrestrial life in a short interview away from network cameras after an appearance on Russian television. This is extremely significant, as it is a rare occasion when a current serving Prime Minister of any nation has come forward to share the truth. Keep in mind that Medvedev also served as President of Russia from 2008 to 2012.
http://www.collective-evolution.com/2013…rial-life/
Here's an interesting read and opinion about what may be happening – a Putin succession due to "health".
Quote:But the divisions in Putin's inner circle, always latent, have become more manifest with the Ukraine crisis and have intensified since the February 27 assassination of opposition figure Boris Nemtsov.
"Now the conflict between the clans has become very seriously intense," says journalist and analyst Raf Shakirov. "It is obvious that different groups are pushing for different paths."
The main fault line, he says, is between "hawks" who have become ascendant due to the Ukraine crisis and Russia's showdown with the West and a "liberal group" responsible for the economy who would prefer a thaw at home and a rapprochement abroad.
The former group, Shakirov says, will probably fight fiercely in any transition to preserve their primacy. "This group understands that for them any normalization would mean, not the end of the world, but a loss of position," Shakirov says. "They cannot risk the loss of the almost unlimited power that they have now."
Likewise, political analyst Marat Guelman sees conflict as the likely scenario. These are "people who have tasted lawlessness, who already feel that they have the right to break the law, to kill," he says in reference to the Kremlin hard-liners.
Source:http://www.rferl.org/content/russia-succession-scenarios/26899859.html