Hidden in National Weather Service forecast: P-L-E-A-S-E-P-A-Y-U-S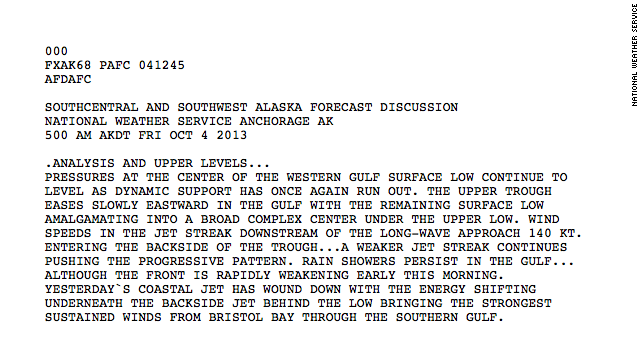 (CNN) — Sometimes, it pays to read between the lines.
At least that may be the message –and, more accurately, the hope — of workers at the National Weather Service office in Anchorage, Alaska.
The message can be found in an official forecast put out at 5 a.m. (9 a.m. ET) that seems, at first glance, routine with its discussion of air pressure, wind speeds and weather systems.
But if you line up the first letters of each word from top-to-bottom in the forecast, under the heading "Analysis and Upper levels," there's something else there:
P-L-E-A-S-E-P-A-Y-U-S.
That breaks down into three simple words: Please pay us.
Meteorologists at the service's Anchorage office declined Friday afternoon to comment on the possibly cryptic wording, saying they can only speak about weather-related matters. It was not immediately clear who exactly put out the forecast or whether a message was intentionally tucked into it.
Still, it's no secret that National Weather Service employees — like other federal government employees — aren't getting paid as long as the government is shut down.