Cult Leader And Hate Preacher Fred Phelps Dead At 84
Hate preacher Fred Phelps had his dispensations wrong. He was preaching like an Old Testament prophet while forgetting that we currently live in the Age of Grace because of Jesus' death, burial and resurrection from the grave. Make no mistake, God indeed does hate the sin of homosexuality, as well as the sin of fornication, drunkenness, gluttony, gossip and all the others mentioned in the bible. But Mr. Phelps forgot to preach what Jesus died and shed His Blood for, and that is simply this:
"For God so loved the world, that he gave his only begotten Son, that whosoever believeth in him should not perish, but have everlasting life." John 3:16
If YOU are a lost sinner, run to Jesus with open arms and ask Him to save you in His Shed Blood. The bible says He absolutely will save all those who come to God through Him.
(CNN) – Fred Phelps. the founding pastor of a Kansas church known for its virulently anti-gay protests at public events, including military funerals — has died, the church said Thursday. The 84-year-old died of natural causes at 11:15 p.m. Wednesday, according to church spokesman Steve Drain.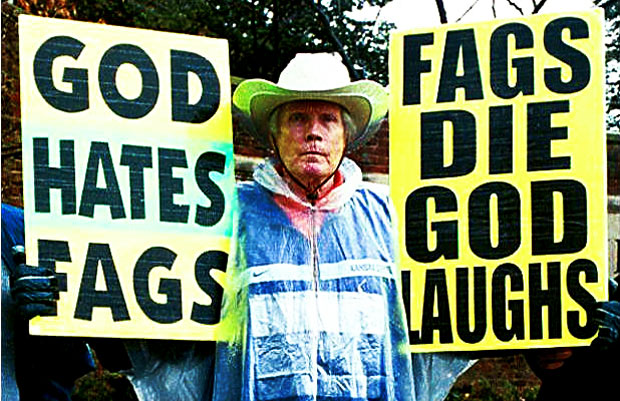 God does hate homosexuality, He calls it an abomination in the bible. But Jesus Christ died to set the homosexual free from Hell. Click image to see how to not go to Hell.
Phelps founded Westboro Baptist Church of Topeka, Kansas, in 1955 and molded it in his fire-and-brimstone image. Many members of the small congregation are related to Phelps through blood or marriage.
According to Westboro, the church has picketed more than 53,000 events, ranging from Lady Gaga concerts to funerals for slain U.S. soldiers. Typically, a dozen or so church members — including small children — will brandish signs that say "God Hates Fags" and "Thank God for Dead Soldiers."
Phelps was often called "the most hated man in America," a label he seemed to relish. "If I had nobody mad at me," he told the Wichita Eagle in 2006, "what right would I have to claim that I was preaching the gospel?"
Under Phelps' leadership, Westboro members have preached that every calamity, from natural disasters to the Sandy Hook Elementary School shooting in Newtown, Connecticut, is God's punishment for the country's acceptance of homosexuality. Phelps had advocated for gays and lesbians to be put to death.source – CNN