Crimea Votes Overwhelmingly To Leave Ukraine And Join Russia
SEVASTOPOL, Ukraine — Crimeans voted overwhelmingly to leave Ukraine and join Russia, election officials in the peninsula said Sunday, capping a heavy-handed campaign that blocked most voters from hearing a vision for any alternative to unification with Moscow.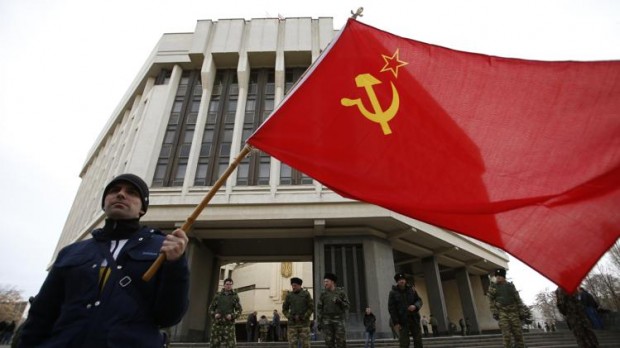 Mikhail Malyshev, a senior election commission spokesman in the Crimean capital of Simferopol, announced that with a little more than 50 percent of the ballots counted, about 93 percent voted in favor of joining Russia.
The White House and Western governments rejected the referendum, conducted as thousands of Russian troops occupied the peninsula, and areeyeing sanctions. Ukraine's interim prime minister, Arseniy Yatsenyuk, dismissed the vote as a "circus" under the "stage direction" of Moscow. Russia has staunchly defended it.
A vote in favor of seceding from Ukraine was widely expected; ethnic Russians make up 60 percent of Crimea's population, and the region has deep historical ties to Russia. But the vote may only complicate the biggest standoff between Russia and the West since the end of the Cold War and increase security fears in the rest of Ukraine and in other former Soviet states.
Tensions rose elsewhere in Ukraine on Sunday. In the eastern city of Donetsk, thousands of pro-Russian demonstrators rallied in support of following Crimea's lead and holding a referendum on joining Russia. Clusters of protesters stormed two government offices. Pro-Russian activists in Kharkiv, another troubled city in Ukraine's east, charged into a cultural center and burned Ukrainian-language books while several thousand Moscow sympathizers marched in the southern city of Odessa, according to the Reuters news agency. source – Washington Post