https://www.youtube.com/watch?v=siHhDDTSRIM
Craigslist killers: 86 murders linked to popular classifieds website
Law Street Media, a company launched in 2013, decided to take a deeper look into Craigslist to see how dangerous it really is. Since the arrest of Philip Markoff, aka the "Craigslist Killer" in 2009, the Craigslist website faced increased scrutiny.
The study by Law Street Media found 58 murderers and 45 murder victims connected to Craigslist postings since 2009. There are 22 murder cases still pending, according to the study. The oldest pending case is from 2012 and eight are from 2014.
Another group doing research on the same topic, Advanced Interactive Media Group LLC, says since 2007, there have been 86 killings in some way linked to Craigslist. Advanced Interactive Media Group has launched an initiative to encourage police stations to host Craigslist and other online transactions. The initiative is called Safe Trade Stations.
Law Street Media says Craigslist did not reply to multiple inquiries from them.
Below is the list of 58 people arrested in connection with some of the murders linked to Craigslist transactions.
PHILIP MARKOFF – Markoff committed suicide in jail waiting for his trial.
According to police, in 2009 Markoff met Julissa Brisman, 26, on a Craigslist ad for sensual massage in Boston. Markoff allegedly shot her on the 20th floor of the Marriott Copley Place Hotel.
JOHN KATEHIS – Convicted of 2nd degree murder during his second trial. He was sentenced to life with the possibility of parole in 2034.
Katehis met his victim,radio reporter George Weber, 47, through personal ads on Craigslist in NY in 2009. Katehis stabbed Webber 50 times in his apartment and claimed self defense during a bad S&M encounter during his trial
JOHN STEVEN BURGESS – Pleaded guilty to involuntary manslaughter, served 5 years in prison. He has been out on parole since July 2014.
Burgess, (registered sex offender) met victim Donna Jou through Craigslist in L.A., CA in 2009. Burgess claims he gave Jou drugs & alcohol & he woke up to find her dead in his home before panicking & disposing of her body, which has not been found
KORENA ROBERTS – Pleaded guilty to one count of aggravated murder, was sentenced to life in prison without parole.
Roberts met 21-year-old Heather Snively, in 2009 to sell baby clothes to the pregnant woman. Snively was hit up to 30 times, Roberts cut open Snively's abdomen and stole her fetus. Snively died of major blood loss.
TAMMI LAFAVE – Pleaded guilty to felony murder and is serving a 25-year sentence.
LaFave & her boyfriend Travis Zoellick met victim Haroon Khan, who was selling a car on Craigslist in WI. Zoellick stabbed Khan to death and hid the car in his garage. Zoellick committed suicide prior to arrest.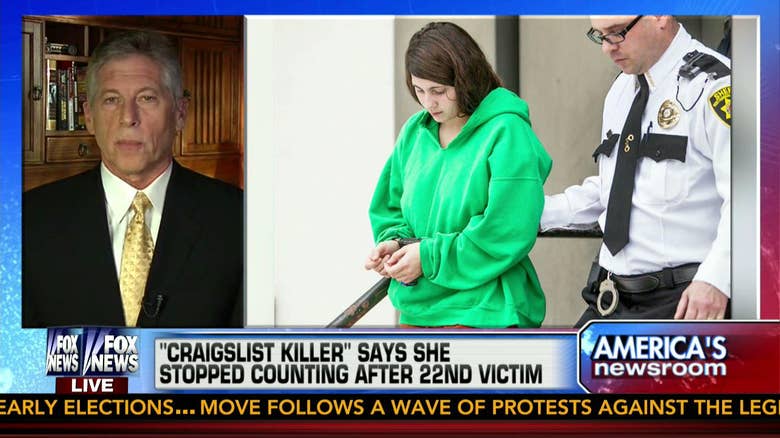 DAO XIONG – Convicted of 3 counts of murder, is serving a life sentence without the possibility of parole.
Xiong responded to a Craigslist ad posted by his victim, Youa Lor, who was selling his car in Lake Elmo, MN in 2010. While on a test drive, Xiong shot Lor and threw him out of the car before driving away.
BRANDON KENT – Pleaded guilty to murder and is serving a life sentence.
Kent met his victim, Thai Lam, who was selling a motorcycle in Georgia in 2010. Kent shot Lam in his garage before fleeing the scene on Lam's motorcycle. Police caught Kent nearly an hour later as he tried to leave his apartment.
Read more…. http://www.wafb.com/story/28761189/craig…ds-website
Nine days ago, a disturbing missive appeared on the Craigslist page for Tulsa, Okla.
"I was wanting to thank Tulsa for letting me have my first kill," the post begins. "It will not be my last thou (sic)."
The post has since disappeared from Craigslist, but not from the radars of concerned Oklahomans. A spokeswoman for the Tulsa Police Department said an investigation is ongoing. The homicide squad has found no open cases matching the murder described in the post, at least not within the past few months; they haven't ruled out the possibility that the post is a prank or a hoax.
But hoax or not, the post adds to a growing concern about Craigslist these days: that the site, far from just a good place to sell your stuff or meet a roommate, is also a platform for dangerous criminals to find their prey. In fact, according to the Advanced Interactive Media Group, an industry watchdog and analyst, Craigslist passed the 100-murder mark just three weeks ago, when a 22-year-old man from Gary, Ind., attempted to rob the middle-aged couple who'd arranged to buy his car.
"Their attitude is, 'We're safe, we have billions of safe transactions' — sure they do," said Peter Zollman, the founding principal of the AIM Group. "But every single day, there are also rapes, robberies and murders linked to Craigslist. And that is a serious issue."
Neither Craigslist nor its publicist responded to multiple interview requests, and the company has not commented publicly on safety issues since a 2010 Congressional hearing. Craigslist has long maintained that the vast majority of its transactions are legitimate and that it can't be held responsible for the small minority that aren't — which is true, legally speaking.
Still, some bad apples are active on Craigslist, and we don't tend to hear about them unless their crimes are particularly grim. Philip Markoff, the "Craigslist killer," was accused of robbing three women, and killing one of them, after meeting them in the Craigslist personals' section; he later committed suicide in prison. In 2013, 53-year-old Richard Beasley and a teenage sidekick were convicted of luring three men into the Ohio woods with bogus job listings, then killing them. Last April, a 30-year-old attorney was stabbed to death in the Donovan Hotel in downtown Washington. He was there to meet someone he'd contacted via Craigslist.
If you scour the crime logs of places like Gary and Tulsa, more incidents emerge: transactions gone wrong, dates turned ugly, would-be roommates or landlords or handymen who aren't quite what they said they were. On Reddit, a popular horror forum called r/letsnotmeet frequently catalogs users' encounters with Craigslist sketchballs: "I really love Craigslist," one post begins, "… however I did run into two creeps who made me re-think meeting strangers alone to sell stuff."
"Traditionally, the majority of murders were committed by killers who knew their victims," said Jack Levin, a Northeastern University criminologist. "Thanks to the Internet generally and Craigslist in particular, stranger homicides have been on the increase."