CommunityCube: The NSA Hates How We Protect You.
#Privacy Matters.
We believe that government and corporate snooping are the biggest threats to personal liberty and democracy that we're facing.
And you're right, we need political change. But do you trust politicians? We sure don't. Trust nothing but test everything!
COMMUNITY CUBE is a technology that makes protecting your privacy easy. Thanks to a unique combination of  open hardware and software, it's both a server and a provider of free secure services. You can trust us, we are fully open.
COMMUNITY CUBE is a plug and play, open source, energy efficient server designed from the ground up with security and privacy in mind.
COMMUNITY CUBE is a one-time-payment product with no hidden fees.
This one-to-all  all-to-one model provides an ideal platform that renders every Internet service you might want, but without the risk of being spied on by the government, corporations, hackers and malware.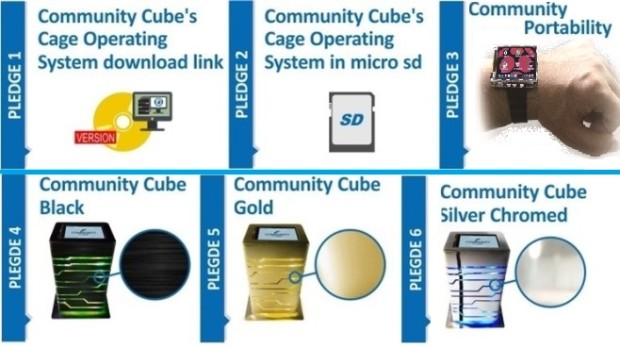 The Internet is full of "free" services.
Most are offered by large corporations that work for the common good.
Right? Come on. You know better.
They are giving you something for "free" because they want something in return – your personal data.
By burying the details in their terms and conditions page, they are in fact hiding their nefarious intentions.
We operate exactly the opposite.
Because we integrate into each COMMUNITY CUBE a carefully selected  security audited services, you no longer need to depend on the good intentions of these big corporations.
Each COMMUNITY CUBE comes with the following functionality:
Cage OS, a secured open operating system
A decentralized anonymous Search Engine with administrator rights.
A filter-connector for your Social Networks in one single place.
Secure decentralized video conferences.
A secure Storage System with collaborative tools
Transparent Email encryption for your actual email.
Anonymous web traffic enforcer Ad-blocker, intrusion prevention system, anti-virus and anti-tracking technology for your web browsing.
The development of COMMUNITY CUBE services offers independence from any Internet authority, the cloud, corporation or government while educating users actively about data security, privacy and data disaster.
34% of those who are aware of the surveillance programs have taken at least one step to shield their information from the government or hackers.
Our goal is to integrate decentralized and collaborative open source tools with a focus on privacy and resilience. There are literally thousands of developers working every day to develop the code we use and is totally trustworthy. Not only have they have made this a success, but the millions of users prove the value of the open source we developed.
The development of Community Cube services offers independence from any Internet authority, corporation or government agency while educating users about data security, privacy and data disaster survival.
Community Cube is built on open-source hardware, and its operating system and features are built on free and open-source software (FOSS). Community Cube uses the boards ODROID-XU3 Lite from Hardkernel, which is 99% open, and you can run any Linux based operating system on it. You can find the electronic schema and here our 3d design.
Open source hardware is constructed using design and development related information that is offered freely and publicly accessible, includes schematic diagrams, code, parts lists, construction parameters and documentation.
We build a decentralized distributed grid where Community Cube is the physical hardware layer. Users get a citizen-fueled infrastructure.
In technical words , to protect you, Community Cube does:
Filtering virus, exploits malware, ads , bad IP-sources and bad content.
Decentralizing the services (doing impossible to apply big data to you )
Open authentication (dissolve legal relation between user and name-ip), Dark-nets (anonymisation of IP)
Forcing encryption for all communications and data storage and in rest.
Filtering the data that expose you, like scripts,cookies, browser info,etc.
COMMUNITY CUBE is designed to be robust and versatile.
You can connect your COMMUNITY CUBE to the network in the way that best suits you.
We support both cabled and wireless connections to your devices.
Each COMMUNITY CUBE comes with four network interfaces which are configured as follows: 2 Wireless and 2 Cabled Ethernets.
Are you outdoors? You can use our universal USB battery pack and any outdoor Internet connection (like 3G) to continue securing your communications.
The following diagram shows 2 different ways of connecting your COMMUNITY CUBE:
Once connected to the network, your data is always waiting for you.
Whether you are at home, in the office, or on the go, you can reach your data and use decentralized services, with absolute control, total privacy and invencible anonymity.
With COMMUNITY CUBE you effectively create a quarantine zone which constitutes an isolated sub-network that adds an additional layer of security.
If you are running a publicly accessible web server this is especially important.
Imagine all the important information you have stored on the hard drive of your computer. You are just one hardware failure away from disaster.
Centralized models like cloud storage such as Drop box and Go0gle Drive or normal self hosting like a hard disk present a variety of risks for its users, including:
Data kidnapping: A real example was Mega. (FBI closed it in 2009).
Disaster: Your external hard disks fail or stolen. (no disaster recovery)
Privacy: You're at risk of having your data hacked and stolen if it's not encrypted.
COMMUNITY CUBE is much more powerful.
In our decentralized system your valuable information is encrypted three times:
1. Before it even leaves your computer, in the web browser
2. In the collaboration tool before the data goes to the hard disk
3. When backing up to the grid, the slices will also be encrypted.
The decentralized (i2p) version of Tahoe-LAFS-Grid (with protections against Sybil attacks and upload Dodos) is a new way to make your data indestructible.
A grid splits your files up into little pieces, encrypts them and spreads them out geographically, making it immune to any disaster or service outage.
Consider the following diagram
With COMMUNITY CUBE you control what you share with people and how you share it with other people and synchronize shared content and collaborated tools automatically.
You can share not just single files through links, but a complete set of folders, contacts, agendas, and collaboration information with single or multiple cubes at one time then allowing upgrades of the set of collaboration data in real time automatically and anonymously.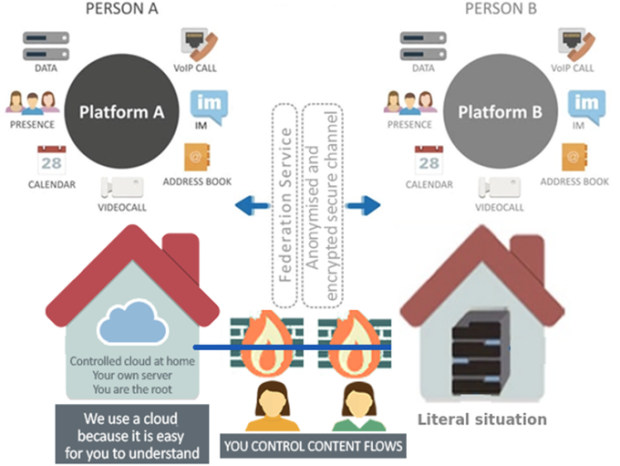 You can also sync your home Community Cube with all of your portable devices to have the same files and receive the same alerts in real time.
If someone steals your cube or for some reason it is destroyed, you can simply buy a replacement COMMUNITY CUBE server and recover your lost data automatically from the Grid. In minutes you're up and running again!
The following diagram illustrates the different layers of data encryption that COMMUNITY CUBE provides:
We don't mince words.
Centralized social networks like Facebo0k and Tw1tter are selling your information.
In fact, not only do they sell your information but they process, analyze, correlate and integrate your personal data with literally millions of independent data points that they either capture or purchase. In many ways they know more about you than even you do!
COMMUNITY CUBE can act as a unified entry and outgoing point for all of your posts across social networks, as well as a filter for what is important to you.
For example, do you hate cat videos? (Really? Can I get you some help?)
You can use Community Cube to filter them out when it automatically imports posts from Facebook, Twitter, and Pinterest!
You control your incoming and outgoing posts, and push your posts from a single place to everywhere with no need to open each social network in a separate tab.
We aren't asking you to give up on social media.
Instead we offer you a way to be in the captain's chair.
Search engines are almost just as bad. Do you really want Google to keep a record of every whimsical search you make of the Internet?
Consider the following diagram:
We fixed this.
With your COMMUNITY CUBE, you are in charge. Thanks to our open source search engine and control panel, you can manage everything about your on-line searches.
You can configure almost anything to increase the quality of your results.
More importantly, forget ads, forget positioning, and forget leaving logs about what and from where you searched.
Just like search engines, most on-line communication programs also represent serious privacy issues.
Consider the problems that entrusting everything to a corporate middleman can cause:
Centrally authenticated chats and voice calls are open to supervision and control.
Once again your COMMUNITY CUBE saves the day!
In our video conference model, we support two methods:
a) With federated XMPP servers for authentication but perfect for discovering users outside the Community Cube network with security from the normal web.
b) Unauthenticated and decentralized web browser video conferencing through anonymous links to create fast video conference rooms without third parties or middlemen involved.
Did you know that all your emails are being read?
And it's not ONLY the government. Your email provider is also reading and analyzing every email you send!   They log your location, the time and related Internet searches and are constantly building an ever-more accurate profile of who you are.
This must be stopped.
COMMUNITY CUBE solves this problem without causing you any inconvenience.
We encrypt emails transparently with the COMMUNITY CUBE web-mail front end.
You don't even need to change your actual email address.
Our system uses a very simple but powerful integration with PGP which makes the content of your emails unreadable by your email provider or anyone else.
Also, the IP from which this email was sent is completely cloaked.
 There's an initial bounty plan at freedomsponsors
The CPU  made by Hardkernel, but if we were over-funded, we can get enough power to work with providers to arrange for improvements in the hardware.
Every over-funded amount impacts the decreasing of production costs and increases the capacity of negotiating with providers and logistics.
Also, it improves the software's integration levels making life even easier for our users.
After all, that's what COMMUNITY CUBE is all about:
Security. Privacy. Ease of Use.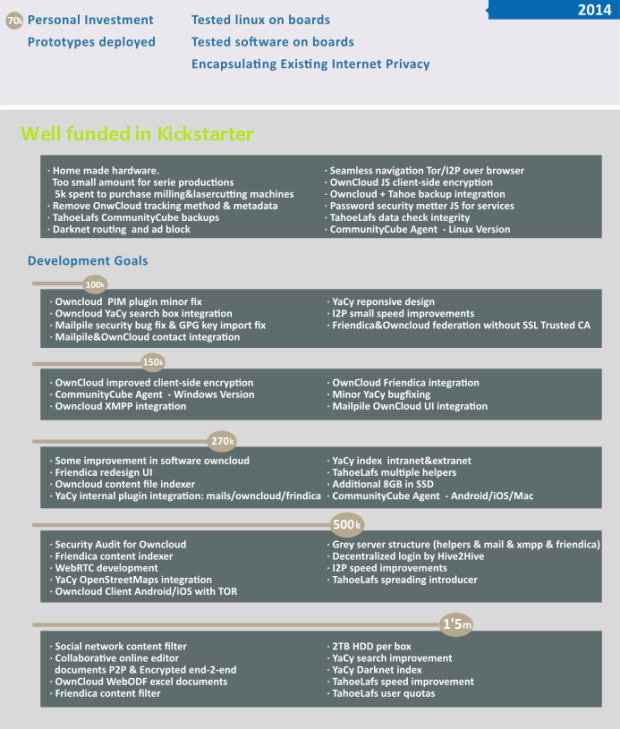 How can I back Community Cube?
·Log into your account, or create a new account. ·Click the green "Back This Project" button at the top of this page. ·Enter your pledge amount and select a reward tier. ·Submit your payment information and that's it!
I can't get my payment to work. What should I do?
Email Customer Happiness at support@indiegogo.com. They can track your transaction and help with any issues.
Will my Community Cube receive Updates after Launching?
Of course! In a security oriented device, one of the most important aspects is updates. Another is the training in Privacy that we will provide.
What if you Fail to Reach the Funding Target?
We appreciate every bit of support we receive during this specific campaign, and every backer is welcomed into the community but we will continue selling the devices on our website. We have already invested in machinery to produce Community Cubes in small quantities.
What Warrants Applying for Community Cube?
A standard manufacturer's warranty applies to the hardware so that means if the hardware fails, we have support and 3 years guarantee from Hardkernel. A permanent warranty applies to the software from our side with continuous upgrading.
What if my Question isn't Answered Here?
We're happy to respond to any other queries you might have at team@communitycube.net ASAP.
Technical FAQ
1. If i currently own a Odroid XU3 (not the lite version) does your SD-card Pledge work for me?
Yes will run, the difference is just a graphic connector.
2.Do you have a version that can work on a Rspi?
Raspberry PI do not have enough hardware resources to run all APPs.
3.Do you have a version that can run on more powerful full fledged PC or Laptop Processors?
We are working on Pledge  that is a Virtual Machine Version x86 or x64 we are based in Linux Debian flavor.
4. How many people can be connected to a single Cube at any one time?
Depends on the Bandwidth you have mainly for UP (upload) most of the lines has asymmetric, we are working in deliver a demo over a symmetric 2mb line we own. As soon is ready we can measure number of user per upload kb..
5. Given that the XU3 has a HDMI port, Is there any software solution where it connects to a /Projector or LCD display and displays remote content from connected users or a simple dashboard (Think conference room or smart table)
The lite version has a micro-hdmi and definitively yes, you can connect it to hdmi screen, we for example use a converter from micro-hdmi to vga that cost 3$
6. How many % of the hard disc space is blocked by other users in the grid?
Easy answers: You share 600GB and you can  replicate 300gb to the grid. You share 1200GB and you can upload/replicate 600gb to the grid (version 2tb)
The server has 2 store unit SSD and Harddisk , the SSD contains the OS and configuration. The hard disk contain also configuration and Storage, as well data from apps that are also replicated to the grid.
6.1 On limits on sharing as needed.
About the hard disk and the Operating system:
-We use disk quotas for the daemons.
About the hard disk and the Tahoe Lafs daemon:
We are going to improve TahoeLafs  because the actual official version of Tahoe Lafs do not have limitations on upload or download (sadly or utopically)
http://www.cageos.org/index.php…
Risks and challenges
Opportunities:
Increased concern about Privacy and Security
Non trust alternatives and high speed Internet
Strengths:
No IT knowledge is necessary to install and use Community Cube server.
No service cost model
Versatile Product that can run anything
Low price, open, customizable
Threats:
Funding is difficult; unrecognized name or trademark
Politics:
Increased government intervention, intrusion, espionage or control;
Global mass control corporation masked
Countries cooperating in espionage
Economical:
Private data becomes profitable (big data)
Large corporations (e.g. Google) monopolize everything
Social:
Human rights violations
Social media exposing huge amounts of private data.
Wikileaks, Snowden, AIWEIWEI, Superfish, Stunex derivatives
Legal:
Law in favor of corporations
International agreements to share users DB; Bypass situation of European personal data protection law
Pre-democratic totalitarianism, roll back of human rights
Environment:
Pollution coming from data centers energy consumption
Technological:
Low cost home production chain
3d production industrial accessibility
Open source that is spy-proof and high quality
Competitors:
No open source competitors
Rivalry:
Marketing project not accomplished due internal problems
Substitute products:
We are an open-source affordable replacement for any parts in open hardware.
Suppliers:
High availability, many providers of the parts
——————————————————————————————-
Special thanks to all open source contributors that allowed us to use their creations as a base for making our CocaCola recipe.
——————————————————————————————-
ODROID XU3 LITE BOARD TECHNICAL SPECIFICATIONS:
8 x Processors: Samsung Exynos5422 ARM® Cortex™-A15 Quad 1.8GHz / Cortex™-A7 Quad 1.3GHz
Memory 2Gbyte LPDDR3 RAM PoP (933Mhz, 14.9GB/s memory bandwidth, 2x32bit bus) we are going to ask if over-funded for a 4Gb Version patch.
3D Accelerator Mali™-T628 MP6 OpenGL ES 3.0 / 2.0 / 1.1 and OpenCL 1.1 Full profile (because GPL violation by default we don't use it to avoid counterfeiting, is disabled at kernel.)
Audio On-board Audio codec / Standard 3.5mm headphone jack. HDMI Digital audio output. Optional SPDIF optical output (USB module)
USB3.0 Host SuperSpeed USB standard A type connector x 1 port
USB3.0 OTG SuperSpeed USB Micro A-B type connector x 1 port
USB2.0 Host High Speed standard A type connector x 4 ports
Display HDMI
Storage (Option) eMMC module socket : eMMC 5.0 Flash Storage (up to 64GByte)
MicroSD Card Slot (up to 64GByte)
Fast Ethernet LAN 10/100Mbps Ethernet
Gigabit Ethernet LAN (Option)
USB3.0 to Gigabit Ethernet adapter (USB module)