Canadian porn actor wanted for murder reportedly spotted in France
Two claimed sightings corroborate police suspicion Luka Rocco Magnotta fled to France after gruesome murder in Montreal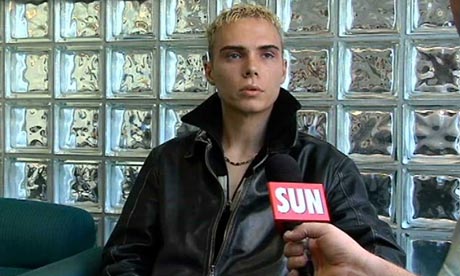 Police in France are investigating two claimed sightings of a Canadian porn actor wanted in connection to a gruesome murder in Montreal.
Luka Rocco Magnotta is alleged to have videotaped the murder of Chinese student Jun Lin before dismembering the 33-year-old's corpse and sending body parts to politicians.
Authorities believe the suspect fled Montreal for Paris last weekend. Interpol has since placed him on its most-wanted list.
Prosecutors in France told the Associated Press on Sunday that they were investigating two reported sightings of Magnotta in north-west Paris. No further information was provided by the unnamed official.
Magnotta, born Eric Clinton Newman, is believed to know France quite well, having travelled there in 2010.
Montreal police have indicated that evidence found in his apartment has led them to believe that the 29-year-old suspect had fled to Europe.
The actor and model is wanted in a murder case that has seen him dubbed "Canadian Psycho".
An investigation was launched on Tuesday after officers found a man's torso in a suitcase behind Magnotta's apartment building in Montreal. A severed foot was then discovered in a package posted to the Conservative Party headquarters in Ottawa.
A hand was found in a separate package at a postal facility, addressed to the Liberal party of Canada.
It later emerged that a graphic 10-minute film, apparently of the killing, had been posted on amateur horror sites.
The footage showed a man stabbing a naked victim with an ice-pick, and then performing sexual acts. It also showed the dismemberment of the corpse while the song True Faith by New Order played in the background.
Montreal police said they had taken down the film but it kept reappearing online. "It's horrible. I can't believe people take advantage of watching this," Commander Ian Lafreniere said.
He added that the video had given police "convincing proof of the crime", adding: "It's not a movie, it's not something that was made up, it's a real human getting decapitated in front of the camera."
Other body parts are missing, and police are investigating the possibility they also may have been put in the mail.
Magnotta, who was born in the Toronto area and speaks English, had been renting an apartment in a Montreal neighbourhood. He changed his name from Eric Clinton Newman in 2006, and online posts suggest he had a long-time fascination with identity change and escape.
In a post on the Digital Journal website in 2009 that police confirmed, a six-step article under Magnotta's name describes how to disappear. "When making the decision to disappear, it is very important to understand that this is not a process that can be successfully accomplished overnight," it reads.
"For best results under normal circumstances, a minimum of four months is really necessary to successfully carry out the heroic actions necessary to leave your old life behind. This is certainly not an undertaking to be entered into lightly be completely sure of yourself before you commit to this."
But police in Canada believe his online profile might help authorities track down the suspect.
"What will hinder him the most is what he used to glorify himself, the web, with all the photos we have of him," Lafreniere said. But he warned that Magnotta is "someone who can disguise himself, he can change into a woman, wear a wig".
Speaking ahead of the latest sightings in Paris, Lafreniere said Magnotta could be anywhere in Europe and "there's even been talk he might have returned to Canada under another identity".
http://www.guardian.co.uk/world/2012/jun/03/canadian-porn-actor-spotted-france