Brilliant Leonids Meteor Shower November 17-18, 2014
This year's Leonids meteor shower peaks on the morning of Nov. 18. If forecasters are correct, the shower should produce a mild but pretty sprinkling of meteors. The waning crescent moon will not substantially interfere with viewing the Leonid shower.
Find a nearby location away from city lights, dressing warmly, and lie flat on your back and look straight up. No special viewing equipment needed —  just your eyes.
For best viewing, wait until after midnight on Nov. 18, with the peak of the shower occurring just before sunrise.
You can see 10  to 15 meteors per hour.
Leonids are bits of debris from Comet Tempel-Tuttle. Every 33 years the comet visits the inner solar system and leaves a stream of dusty debris in its wake. Many of these streams have drifted across the November portion of Earth's orbit. Whenever our planet hits one, meteors appear to be flying out of the constellation Leo . http://www.nasa.gov/watchtheskies/leonid-meteor-shower-nov2014.html#.VGhhYPmsXm5
Where to view the Leonids
The Leonids can be seen by viewers from both hemispheres.
While it is not necessary to look in a particular direction to enjoy a meteor shower – just lay down on the ground and look directly above and you are bound to see some meteors. Astronomers suggest lying down on the ground and looking at the sky between the East and the point right above you to view the Leonids.
When to view the Leonids
The best time to view the Leonids is just after midnight and right before dawn . http://www.timeanddate.com/astronomy/meteor-shower/leonids.html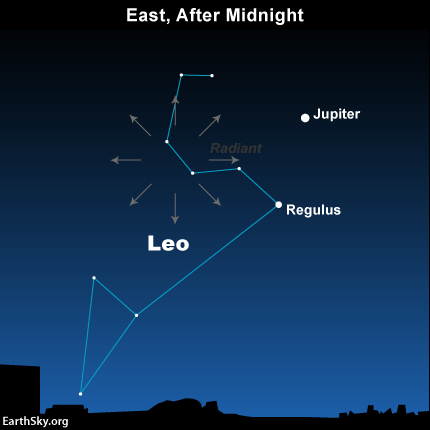 Image credit:Try for Leonid meteors before dawn November 17  http://earthsky.org/tonight/leonid-meteors-before-dawn-november-17