Breaking! US: NORTHCOM issues FPCON BRAVO for all military bases due to jihadist threat
US: NORTHCOM issues FPCON BRAVO for all military bases due to jihadist threat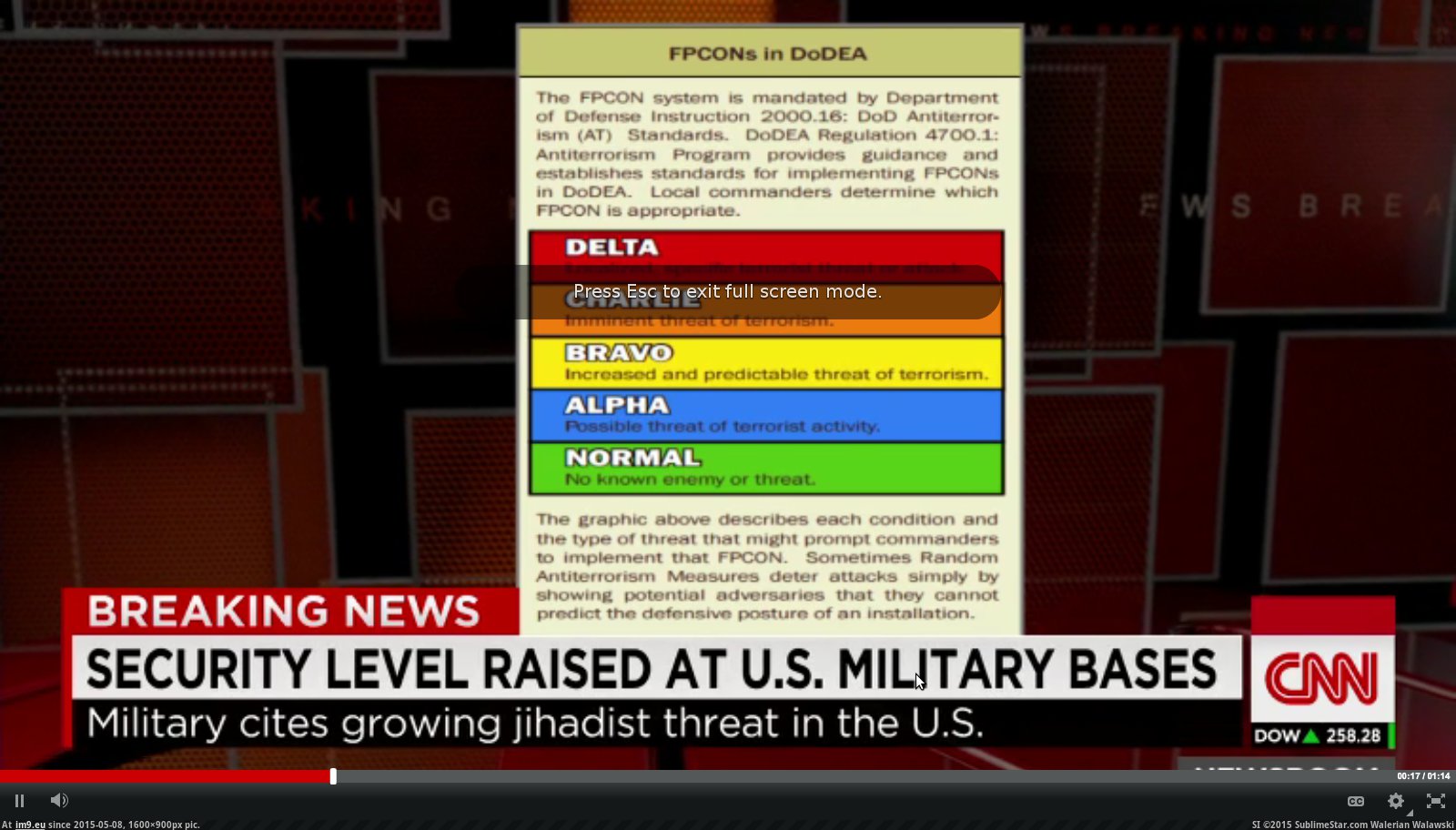 BREAKING: US NORTHCOM places all installations at FPCON BRAVO – includes Peterson, Schreiver, Cheyenne Mountain, USAFA. Expect delays.
FPCON BRAVO describes a situation with a somewhat predictable terrorist threat. Security measures taken by agency personnel may affect the activities of local law enforcement and the general public. (Must show two military base IDs at gates.) Force Protection Level I Antiterrorism Training defines FPCON Bravo as: FPCON Bravo applies when an increased and more predictable terrorist threat activity exists. Specific information suggests probable violence, but nothing indicates that this installation is
targeted. Extra precaution is appropriate to deter terrorist planning. Additional measures may affect operational capability and relations with local authorities. You can expect stricter inspections of vehicles, deliveries, and ID checks. You will see a greater presence of guards on your installation.
Threat level raised: ISIS prompts threat level increase at U.S. bases. FBI Director James Comey says 1000's of ISIS in U.S.!!
The order was signed by Admiral William Gortney, head of the command.
"We have the same concern about the potential threat posed by violent homegrown extremists," said Captain Jeff Davis, spokesman for the U.S. Northern Command which oversees all U.S. military installations in the continental U.S.
Davis declined to specify the new security measures. But a U.S. official confirmed to CNN that U.S. military bases are now at "Force Protection Bravo," which is defined by the Pentagon as an "increased and predictable threat of terrorism." US bases generally have not been at this level since the tenth anniversary of the 9-11 attacks the official said.