BREAKING: Greece sends 50 Warships to its Islands, 10 Helicopters to its Borders with Turkey. NO ONE ALLOWED into the EU! France to send warships
According to exclusive BILD information, the government sends 50 warships to the Greek islands to protect themselves. Ten helicopters are also supposed to secure the borders to Turkey (Evros) on land.
Hellenic Navy consists of 116 Warships & other Boats, including:
13 Frigates
11 Submarines
19 Missile Boats
10 Gunboats
9 Tank-landing Ships
6 Patrol Boats
48 Fleet Support & other Auxiliary Ships
Which are supported by:
154 Lockheed F-16 Fighting Falcon
42 Dassault Mirage 2000
34 McDonnell-Douglas F-4 Phantom II
BILD learned this from a high government representative who wanted to remain anonymous. Greece then completely closed off its borders with Turkey: not just for refugees, but for EVERYONE.
All Greek troops are on high alert. "Greece has tightened the guarding of its borders on land and water to the maximum," said government officials on Friday.
AFP news agency reported in the morning that the border patrols had been doubled. According to military sources, around 300 people were sighted in the Evros region on the border on the Turkish side. However, these numbers are not unusual, said a military official.
Turkey's neighbor and EU member country Bulgaria has also strengthened the protection of its border: the gendarmerie has already been stationed there, said Prime Minister Boiko Borissow (60). Defense Minister Krassimir Karakachanov announced that he was prepared to send 1,000 soldiers to the Turkish border.
The minister was determined that the army would fully support border guards so that not a single migrant was illegally admitted to the territory of Bulgaria.
https://www.bild.de/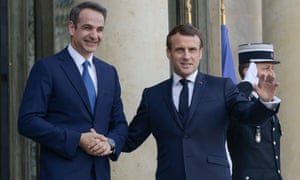 Greek PM welcomes move as row with Ankara over energy reserves intensifies
Greece's prime minister, Kyriakos Mitsotakis, has welcomed a decision by France to dispatch war frigates to the eastern Mediterranean as a standoff with Turkey over regional energy reserves intensifies.
With tensions between Athens and Ankara causing growing international alarm, Mitsotakis described the vessels as "guarantors of peace".
"The only way to end differences in the eastern Mediterranean is through international justice," he told reporters after holding talks in Paris with the French president, Emmanuel Macron. "Greece and France are pursuing a new framework of strategic defence."
Source: France to send warships to support Greece in Turkish standoff | World news | The Guardian
An Afghan Refugee:

"I stayed 1 month in prison in Turkey, today they released us and said 'go'. I go to Europe to save myself. The police brought us to the border" #refugees #Turkey #Syria #Idlib #NATO https://t.co/dA3OZGyA4z

— Qûß (@laqubinlog) February 28, 2020
"The EU is calling on all sides to de-escalate faster," wrote EU foreign policy chief Josep Borrell (72) on Twitter. There is a risk of a "larger, open international military confrontation". He promised "all necessary measures" to protect the EU's security interests. He didn't say what they could be.
Erdogan Blackmails Greece, Europe with Flood of Migrants
President Recep Tayyip Erdogan likes to flex his muscles in front of Europe, Greece, Cyprus and everyone else he believes can give something that Turkey wants. Or when Turkey does something which breaks international law.
He also likes to threaten the European Union and countries he believes are enemies of Turkey. Or perhaps he is just trying to convince his constituents that he is a great victorious general who can lead his armies to defeat Turkey's perceived enemies.
By now it is clear that Erdogan's favorite "diplomatic" tool is sheer blackmail. And the 3.5 million Syrian refugees Turkey houses currently is a convenient playing card for him.
Migrants trying to swim to reach Greece from Turkeyhttps://t.co/xh4qK6Sr4X pic.twitter.com/JzRERVxGk2

— Yeni Şafak English (@yenisafakEN) February 28, 2020
Greek Army On Alert as Hundreds of Migrants Converge on Turkish Border | GreekReporter.com
Greek defense forces have increased their patrols at the land border with Turkey as hundreds of migrants and refugees converged on the Turkish side
Greek defense forces and the police increased their patrols on Friday at the land border with Turkey along the Evros River as hundreds of migrants and refugees have now created an encampment in the neutral zone separating the two countries, waiting for an opportunity to cross.
Greece has closed the border crossing at Kastanies and police vehicles are now blocking all entry into Greece.
Konstantinos Floros, the Chief of the Hellenic National Defense General Staff, and Minister of Public Order Michalis Chrisochoides have arrived at Evros to coordinate military and police units and ensure that no illegal crossings will take place.
A government official told Athens Macedonia News Agency that Greece is in constant contact with the European Union and NATO on this issue.
Source: Greek Army On Alert as Hundreds of Migrants Converge on Turkish Border | GreekReporter.com
Bulgaria Joins Greece in Toughening Patrols Along Turkish Border

Bulgaria, the EU's other member-state that shares a national border with Turkey, has been toughening its controls along its frontier with the country since Friday morning.

Bulgarian Defense Minister Krasimir Karakachanov said on Friday that Sofia is ready to send one thousand soldiers as well as military equipment to its border with Turkey, in an attempt to stop the sudden influx of refugees and migrants who want to cross over into the EU from Turkey.