Army refuses to open up on capabilities of surveillance blimps over Maryland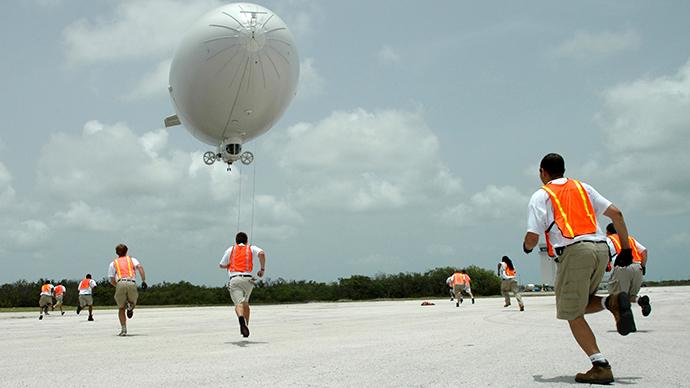 The military surveillance aircraft set for release this year over suburban Baltimore will not be equipped with powerful video cameras capable of distinguishing humans or vehicles from over three miles away, the US Army said.
Ambiguity over the capabilities of the surveillance blimps has led to privacy concerns for those along the bustling I-95 corridor in Maryland, where the aircraft will be tethered on land owned by the Aberdeen Proving Ground.
The blimps, equipped with JLENS (Joint Land Attack Cruise Missile Defense Elevated Netted Sensor System), will be operated by the Army's North American Aerospace Defense Command (NORAD) and are planned to begin a three-year exercise later this year, according to a NORAD spokesperson.
JLENS employs two white, 243-foot-long blimps in the air for up to 30 days. The system uses radar to spot missiles or "swarming boats" filled with explosives from as far away as 340 miles.
Privacy advocates worried that JLENS could easily be used to surveil citizens, possibly with the use of sophisticated facial recognition cameras. Documents from 2009 describing JLENS capabilities were offered to the Electronic Privacy Information Center (EPIC), yet those documents came so heavily redacted that they did not outline exactly how the system will be used, stoking an ongoing legal battle to compel more information.
"There is a lot of potential for privacy abuse if a surveillance device can identify a human at five kilometers away," said Julia Horwitz, EPIC's consumer protection counsel.
NORAD told The Washington Post on Thursday that the blimps will not have video cameras while at the Aberdeen Proving Ground.
Army officials have said JLENS was made to identify missiles and other threats, not to monitor everyday activities of people in the area. Though privacy advocates are alarmed by past tests conducted by JLENS developer Raytheon, a powerful weapons and intelligence contractor, to determine the surveillance system's ability to use high-altitude cameras that could spy on people miles away.
The Army said in January that it would not "rule out using such systems or possibly sharing the resulting footage and other information with federal, state or local law enforcement officials," The Post wrote Thursday.
NORAD spokeswoman Maj. Beth R. Smith confirmed following EPIC's public release on Wednesday of the 2009 documents that JLENS would "absolutely, 100 percent" not have video cameras during its time in Maryland. The Army is due to offer more JLENS documents to EPIC by October, pursuant to a federal judge's order on Aug. 20.
Smith said plans for JLENS had changed since the publication of the 2009 documents. "There was a lot of ambiguity back then. Now the thing is on its way," she said, adding that the change occurred over concerns that video and infrared surveillance systems were too heavy and unnecessary.
Marc Rotenberg, EPIC's president and executive director, said public release of the Army's much-redacted documents may have made a difference.
"It may be the case that the Department of the Army is now backing off its original plan based on the public disclosure."