5 Things The TSA Doesn't Want You To See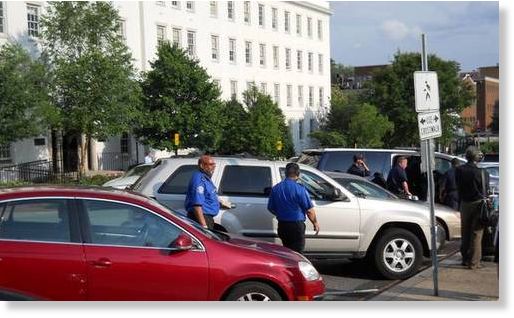 This is a picture of two Transportation Security Administration screeners leaving work last week. 

But look closely. They're nowhere near an airport. In fact, if you've ever been to Washington, then you'll recognize the area just outside a Metro station near a congressional office building. 

This is just one the images the TSA didn't want you to see last week. 

How do I know? Because when I asked the agency assigned to protect America's transportation systems about the picture, its response was "off the record" – meaning that I'm not allowed to tell you what it said. 

But a legislative assistant who works in a nearby office building filled in the details. 

"The two agents were at the Capitol South Metro Station roughly between 5 p.m. and 6 p.m. Thursday evening," he says. "They had a white table set up inside the station and were randomly inspecting purses and bags. There were also a few officers as you can see standing next to the dark blue van in the picture that were 10 yards or so past the table, standing watch." 

I was able to independently confirm that the TSA agents were there and that they were working. But beyond that, not much. 

The fact that TSA operates outside of airports may come as a surprise to some Americans. The agency's so-called Visible Intermodal Prevention and Response teams work mostly in mass transit in big metropolitan areas, but not exclusively. They've been seen at ballgames, truckstops and even reportedly got themselves banned from Amtrak stations for a short while. 

But why were agents at the capitol? Maybe it had something to do with the presence of a group called Freedom to Travel USA? 
The TSA would probably prefer you didn't watch this report about the organization, or its co-founder, Wendy Thomson.


Here's another image the TSA wishes you wouldn't look at: it's footage of Thomas Harkins. A decade ago, Harkins was a Catholic priest working at churches in New Jersey. But the Diocese of Camden reportedly removed him from the ministry because it found he sexually abused two young girls, and a third woman is now claiming to be one of his victims.
This doesn't look good either. A TSA agent in Phoenix who reportedly insisted on screening a breast cancer survivor in public. TSA rules say you're entitled to a private screening.
The result? The passenger, Cindy Gates, says she popped out her prosthetic breast and threw it.
And finally, here's a video the TSA really wishes it could delete, if such things were allowed. It's the agency's former administrator, Kip Hawley, who continues to promote a new book that's highly critical of the agency.
Hawley has called airport security an "unending nightmare" from which common sense has been removed, and like many other TSA critics, he thinks the time has come to reform the agency.